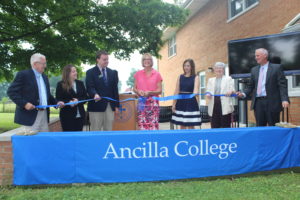 Ancilla Hosts blessing of APAC Residence
DONALDSON – "This is really quite a momentous occasion for Ancilla College," said Dr. Ken Zirkle, president of the college, on August 1, 2017 as a large group of VIPs lined up for the ribbon cutting of the Lake House and the launch of the Autism Program at Ancilla College (APAC).
APAC is a college-level program to help students with Autism Spectrum Disorder to build social, workplace, and academic skills and knowledge. It is designed for students who, while exhibiting superior intellectual ability, face serious challenges with communication, social interactions, and group educational settings. The APAC program is a residential, college-level program providing for the successful immersion of these unique students into a small, rural, supportive campus community. "This is just another way for Ancilla to make a difference in the lives of so many," said Zirkle.
"Ancilla College has provided a nurturing academic environment that has attracted some of the best and brightest students from right here in Indiana and around the world," said Lauren Varga, reading from a letter sent by Sen. Joe Donnelly, (D-IN). "It is with great pride and excitement that we acknowledge the beginning of this important chapter in the history of this distinguished institution."
Also on hand was Ben Parsons, who represented Congresswoman Jackie Walorski (R-IN2). In a video message that was shown to the group, she stated, "This important new program has created a unique opportunity for students across the country to get the education, resources and support they need to thrive. Ancilla College is leading the way as a model for other programs like this and I hope more and more states will follow Indiana's lead."
Leading the group of state politicians who came to share in the excitement was Lt. Gov. Suzanne Crouch (R-IN). "Our culture celebrates personal achievements in a variety of ways," she said, "but we all too often don't take the time to recognize and show our appreciation for those whose talents go unnoticed." She further added, "One of Ancilla College's values is to serve the underserved; and suitably, it is the first two-year college to offer an ASD specific residential program in Indiana. Support programs such as APAC can result in substantial improvements in social interaction and enhance talents of those with ASD. Ancilla's innovative foresight in addressing the needs of the ASD population will provide a model program which can be replicated across other institutions."
Before Lt. Gov. Crouch cut the ribbon on The Lake House, Sr. Judith Diltz of the Poor Handmaids of Jesus Christ gave a prayer and displayed the bottle of water that would be used to bless the home. Coming from the streams running behind the Heilborn Chapel in Durnbach, Germany, 'Heilborn' roughly translates to 'healing waters,'  "which makes it appropriate to be used in this special home," said Sr. Judith.
The program will open its doors to the new students enrolled in the program in the fall semester of 2017. "This is really exciting," said program director, Kristen Robson. "This will be an opportunity to help these special students achieve goals that may have previously seemed unattainable."
Ancilla College (www.ancilla.edu), part of The Center at Donaldson, offers 25 associate degrees, eight one-year certificates and has 20 athletic teams. Since 1937, the college has been a sponsored ministry of the Poor Handmaids of Jesus Christ. It is a small, private, liberal arts school located two miles south of U.S. 30 on Union Road near Plymouth, Indiana.